Fespaco film festival
Ethiopia's Teza judged best African film
by Aidan O'Donnell
Article published on the 2009-03-08 Latest update 2009-03-12 14:09 TU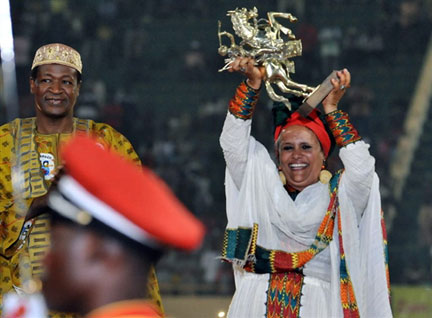 Sélomé Gerima, sister of Ethiopian Haile Gerima, who directed the film "Téza" holds the Golden Stallion of Yennenga - Left is Burkina Faso president Blaise Compaoré.
(Photo : AFP)
Ethiopian director Haile Gerima's Teza won the top prize at the Fespaco African film festival which ended in Oaugadougou this weekend. The much-admired movie, which also won the jury's special prize at last year's Venice film festival, tells the story of a highly-educated Ethiopian who returns home from Germany when Haile Meriam Mengistu deposes Emperor Haile Selasse.
The principal award in the feature film category is the Golden Stallion of Yennenga and it went to Gerima, for the very impressive Teza.

The Silver trophy went to South African John Kani for Nothing but the truth, a story about a family coming to terms with its previous life under apartheid and set against the backdrop of the Truth & Reconciliation Commission.

Algerian director Lyes Salem won the Bronze Trophy for his film Mascarades.

There were three prizes for the South African thriller-drama Jerusalema, including Best Editing and Best Photography and lead actor Rapulana Seiphemo received Best Actor for his portrayal of Lucky, a shadowy character somewhere between gangster and social activist.

Best actress meanwhile went to Sana Mousiane in the Moroccan film Les Jardins de Samira.

Morocco also picked up Best Set and Best Music for the film Adieu Méres while Best Script went to a film from Guinea (Conakry), L'Absence.

The Short Film category was dominated by North Africa and Algerian films took 1st and 2nd prize with Ils se sont tus and C'est Dimanche while the bronze statue went to the Cameroonian film Waramutseho – or Bonjour.

The Documentary prize went to a study of political persecution in Morocco called Nos lieux interdits, while second prize was awarded to an impressive history of South Africa's liberation movement-turned-ruling party, the African National Congress, Behind the rainbow. Black Business from Cameroon's Lewat Osvalde took the bronze award.