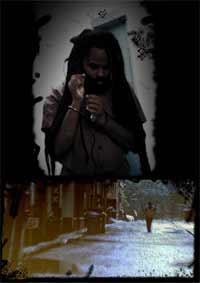 In prison my whole life
(Photo: courtesey of International Festival of Cinema on Human Rights)
Mumia, as Jamal is known to his supporters, is probably the best-known of the 3,500 prisoners sentenced to death in the US. The
African-American journalist has been on death row since 1982.
Robert Bryan, Jamal's primary lawyer, said such prizes can only help his client's cause.
"We're absolutely thrilled, humbled. I accept it on behalf of Mumia," he said after accepting the awards in Paris' Action Christine cinema.
"He told me to accept it on behalf of all the people on death row in the world. What is remarkable about this film is that it doesn't just deal with the facts of the case but the politics and the unfairness of the system."
Despite a widespread and longstanding international campaign of protest, Bryan warned that Jamal could be dead within a year. He told RFI that he hoped the new climate of tolerance instilled by US President Barack Obama could tilt the case in Jamal's favour.
The films shown at the festival ranged from high-budget efforts like In Prison My Whole Life or An Independent Mind, to grassroots works like Mila Tu: Becoming a Massai woman without excision.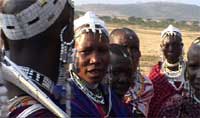 Still from Mila Tu: devenir femme massai sans l'excision
(Photo: courtesey of International Festival of Cinema on Human Rights)
Laurène Lepeytre and Charlotte Bruneau co-directed the 52-minute documentary that was roundly applauded after the screening.
"I'm a little desperate because I would like to be criticised," Bruneau said, alluding to the sense of preaching to the converted at the festival. "Until now, it's been 'Oh! It's so nice, well-filmed.' But a little negative critique would be nice. It's a human rights festival, so people are more aware of the dangers of excision, of course."
The annual festival has the backing of the Paris city council, which was represented here by Yamina Benguigui, a well-known film-maker in her own right, whose recent documentary on the northern Parisian suburb Saint Denis provoked heated debate in France.
"This is a very important festival for me, because it represents all my personal engagement as a director," she said. "The gathering challenges human rights abuse everywhere, as I've been doing myself, here in France for the past 17 years."
"For me, documentaries are weapons we must use to denounce and change things, to end the prejudices that are all around us. This is why this festival needs our help, our support, and our presence."
The festival was able to call on distinguished names for its jury, including the veteran diplomat Stéphane Hessel. As someone who was involved in the original drafting of the Universal Declaration of Human Rights in 1948, he was sensitive to the fact that human rights abuses continue, despite efforts by such festivals to denounce them.
"There is still a very long way to go," said the 91-year-old. "We are aware of the fact that many nations still violate human rights. We in France are not above reproach, for example, on the question of the rights of prisoners to have decent prisons, or the rights of immigrants."
Hessel and jurors Bruno Gaccio and Simon Bitton gave the festival's Creation Award to the film No Comment by Nathalie Loubeyre, which follows clandestine immigrants in the Northern French port town of Calais.
Loubeyre dedicated the award to "all the men and women who … are running away from misery, insecurity, the arbitrary nature of life and terror. People who we no longer know how to welcome and protect and who we throw into zones of illegality."
Prizes were also given to End of the Rainbow (Tout l'or du monde, in French) by Australian Robert Nugent, the Finnish film Shadow of the Holy Book directed by Arto Halonen, and the Belgian film Résister n'est pas un crime, by Marie-France Collard, Foued Bellali and Jérôme Laffont.
The festival closed with D'une seule voix, a moving and challenging documentary on Israeli and Palestinian musicians who are trying to find a common language in periods of conflict.
Like so many of the films shown at the festival, the producers are still seeking a distributor and television outlet. If anyone out there is interested in knowing more, click onto the film's website http://www.aloest.com/, and talk to its director/producer, François-Hugues de Vrumas.