VBH is a trio that first came to our attention when they reached last year's RFI Discoveries Competition. In today's show, World Tracks enjoys their engaged and entertaining rap at a time when heavy question marks continue to hang over Cameroon's future. An artist suffering from this uncertainty is Lapiro de Mbanga. The singer has been behind bars since March 9, 2008. His defenders claim this is for his criticism of President Paul Biya. An international campaign for his release is underway.
It's been over a year since the Danish-based NGO Freemuse denounced the incarceration of one of Cameroon's most popular artists, Lapiro de Mbanga. Lapiro was arrested after the 2008 riots over a constitutional change allowing President Paul Biya to run for a new term in 2011. One of the most popular songs at the time was "Constipated Constitution" by Lapiro de Mbanga, of course.
Lapiro was sentenced in September 2008 to three years in prison for unlawful gathering and looting. However, the composer has always denounced the imprisonment as politically motivated. The crooner has been in the government firing line for years.
"I continue to ask myself what I am doing here", he told Jen Bell, correspondent for Freemuse. "I don't know why they have arrested me. I don't know why I have been condemned. I am an observer of my own story, to tell you the truth. I have nothing to reproach myself. I am calm, I feel serene. I leave it's up to the Justice of our country to do its job. That is all."
In June 2009, the appeal court sentenced the 52-year-old to three years behind bars and a fine of 400,000 Euros. Mbanga again appealed but his defence was again pushed back in early October. The judge refused to release the singer despite the fact he has been suffering from typhoid fever since December 2008.
Defending lawyer Augustin Mbami has denounced the incarceration as politically motivated. In a telephone interview with RFI, he welcomed the international campaign that Freemuse has mounted to have Mbanga released.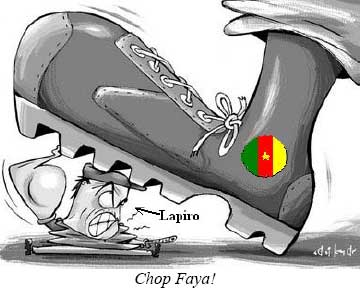 "All pressure has to be welcomed. It can help me sensitise the Cameroonian people and force the government to review his case."
International Pen also denounced the songwriter's detention and in September the American NGO joined the chorus of appeals to the Cameroonian authorities. Maran Turner runs the Washington-based organisation which has also monitored the case of Aung San Suu Kyi in Burma and Oscar Bisset in Cuba.
Turner hopes to engineer an advocacy campaign in the US which could involve the Recording Academy and concerned members of the musicians' community. "Our intention is to take it to international arenas like the UN arbitration court and the African Commission on Human Rights," she told RFI in a telephone exchange.
For René Mboumoua, Lapiro de Mbanga's imprisonment reflects the growing intolerance to criticism in Yaounde. Mboumoua is the manager and DJ of the successful hip-hop trio VBH, or "Vise Bien Haut". "In his songs he wasn't inventing anything," he told RFI after a concert at Agadir's Timitar festival.
"La constitution constipée" was just a song, not an act of war. It was saying the youth want to change the country and not make the same mistakes their elders made. The youth can no longer wait. They promise so much, but now we have to do it for ourselves."
QUIZ OF THE WEEK
What does "Vise bien haut" mean in English?
The answer is in the programme. You are invited to listen to it and send your answers to daniel.brown@rfi.fr.