After winning the Palme d'Or at this year's Cannes film festival, Laurent Cantet's The Class hit French cinemas this week, thrusting France's tough multi-cultural schools into the limelight and causing controversy on the way.
When The Class (Entre les Murs) by Laurent Cantet won this year's Palme, the first French film to bag the top prize in 21 years, a wave of all-too-rare national pride swept through the country.
France's political class was clearly chuffed that the birthplace of cinema was still capable of holding its own.
Education Minister Xavier Darcos and Culture Minister Christine Albanel both heaped praise on the film, before even seeing it, and the presidential palace requested a private viewing with director and pupils in tow.
The request was turned down.
The media, both national and international, have been equally effusive, the International Herald Tribune calling it an "exhilarating movie … that helps us make sense of life".
The film has been selected to represent France at next year's Oscars, it opened the NY film festival last Friday and 60 countries have bought up the rights.
Thanks to the maverick Sean Penn, president of this year's Cannes jury, it's the talk of tout-Paris and drew an impressive 60,000 people countrywide on its first day.
So what's all the fuss about?
Set in a tough multicultural school in the Paris's working-class 20th arrondissement, it focuses on exchanges between a class of teenage pupils, mainly from African, Asian and Arab families, and their French teacher played by François Begaudau, author of the book upon which the film was based.
A kind of docufiction film d'auteur, the pupils and teachers (with the exception of the lead) are played by real students and teachers from the school and the script honed through months of workshops.
The result is funny, moving and depressing as rowdy, lippy and sometimes insolent pupils tease their teacher, scorn his attempts to teach grammar and mock what they call the jambon-beurre (ham and butter) culture, pejorative slang for white French.
While Marin the teacher makes plenty of mistakes, he never stops believing in the kids and his role in encouraging dialogue.
On receiving the Palme, director Laurent Cantet said the film respected the ideals on which the French republic is founded.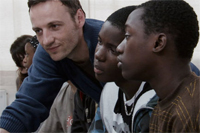 François Begaudau and the actors who starred in Palme d'Or winning film "The Class"
(Photo: Haut et Court)
"We try to see how this classroom can be a space where democracy and dialogue can be learned," he said.
There is indeed plenty of dialogue in the film (mainly slang on the part of the pupils) but little learning, at least in the text-book sense. And this has got some French thinkers up in arms.
The high-profile philosopher Alain Finkielkraut declared in le Monde newspaper in June that awarding The Class the Palme symbolised " a civilisation in crisis where great texts no longer have a place, including in schools".
But the most vocal critics have been teachers themselves.
One of the most virulent reactions has come from Véronique Bouzou who's been teaching French for ten years in ZEPs (education priority zones).
In her recently-published book L'ecole aux griffes du septieme art: une palme scandaleuse (School in the grip of the movies, a scandalous Palme) Bouzou decries the media, political and financial subversion of the film.
She dubs it a deeply demagogic film, citing the case of the most difficult pupil who ends up getting expelled.
"In real life his name is Franck, in the film he became Souleymane," she claims.
Bouzou laments the slang the pupils proudly use and the way the teacher, rather than pulling them up, seems to join them on their territory, ending up calling two of his pupils "pétasses", a slang insult roughly equivalent to slut.
"How can you expect your students to study for exams when they've seen their peers doing nothing and getting the Palm d'Or?" she asks. "It really is reality television. You see youngsters not working, click their fingers and then get the Palme d'Or. Kids from rough suburbs don't need that. No youngster needs that."

Such criticism comes as little surprise to director Laurent Cantet who knew education was a hot potato in France and that he was bound to upset some people.
"I knew … I couldn't touch it without risking those reactions," he says. "What I always answer is that …..it's not a documentary…I don't want the film to be an example for anything. The teacher is not exemplary, the children are not perfect. I wanted to show how difficult it is to describe this world because there are a lot of oppositions and contradictions".
But these are sensitive times for education and integration issues in France.
President Nicolas Sarkozy's education reforms are requiring teachers to get back to basics and improve standards. And all that with fewer staff - 11,200 posts have not been replaced this year.
Many teachers feel they're under fire and undervalued. Meanwhile, politicians want to feel France is succeeding in the republican ideal of integrating children of immigrant backgrounds into the nation.
The film provides no answers on either how to teach or how to bridge the ethnic divide.
But it does ask lots of questions. There's excellent acting on the part of the kids and some amazing camera work. It remains an open-ended, touching film d'auteur, that will doubtless keep education in the limelight for months to come.